We interrupt this series of musical meditations because the author took a poetry and photography workshop Saturday with Sierra Nelson and Rebecca Hoogs, and it felt so good to write poems again.    
I have a theory on poets versus prose writers, and I'll share it here, at the risk of irritating the prose writers:  whereas prose writers are, whether they like it or not, on the alert for a good narrative, poets are interested in the moment and only find it come together as they write it.  Maybe that's true for prose writers, too, but I like to think I'm a poet at heart, loving the way the language feels as I find it, not always knowing or caring where it takes me.  That's why I still think of my essays in terms of Walter Pater—episodes of burning with the hard, gemlike flame, instead of sacrificial offerings to the pyre of a good story.  
Recently, a friend asked me if it seemed like maybe these essays would turn away prospective suitors.  I told her about how Jason once emailed me, the year before we dated, to tell me he'd been reading my essays.  We weren't active friends, hadn't ever hung out—we'd run into each other at an event, and he added me on Facebook.  So I was surprised to find he'd been reading the essays, that he looked at my Facebook world at all.  "For what it's worth," he wrote me then, "I really like them and think you're doing something worthwhile there."  A year later, when I wrote an essay about us falling in love, I got another email:  "After years of reading these, it's so moving to have one finally be about me.  Thank you so much, you sweet woman."  That essay still seems like a poem to me:  incomplete in its insight, fragmented, merely time spent, in writing, with the feeling we both were having, a feeling neither of us thought would end.  
I would write two more essays about him because we thought we had a narrative, but we were wrong.  
So maybe I should have stuck with poems.
If this all sounds like an elaborate defense for these prose essays, it may be because all writers face that moment when someone wonders aloud if your writing records your life or if you're using your life (and the lives of others) to seek out the good story.  I made a mix tape once for a guy, with liner notes for each song, and he broke off things with me.  "I get the feeling I'd just be another flavor on your emotional schmorgesbord," he wrote.   I can only hope those I've loved believed, as Jason did, those moments were for burning, not for research.  If it seems I move through hearts in search of the next story, be kinder to me:   I'm just a poet who can't keep it short.
The Poems
With that, here are two poems from the Poetry and Photography workshop.
Prompt #1:  Use a photograph from your past (or one that was never taken).  I used two photographs  taken of me and a college friend in Spain, at the Prado.  Who wants to come over and help me figure out how to scan them into this?
"Photo Album, Age 20, the Prado, 1994"
One picture has us, backs turned,
before a painting of which I no longer know the name
(her green parasol, his red hat)
our waist-long hair like the "before" pictures
in make-over-gazines.
Your blonde hair will get a lot of whistles; we'll learn
"Sueca" is the word for "easy Swedish babe."
My red hair's not my own:  you too can have this color,
but I'm the only one who does.
Still, we are so innocent, big sweaters and round faces,
in awe of flesh tones and Velazquez.   Even
la Infanta Margarita, age 5, looks wiser than we are
about where men's eyes go.
But I am alone with Goya—
you're back with Bosch in the Garden of Earthly Delights—
and it's just me and her,
la Maja so Desnuda.
She knows I understand at last her gaze,
all pillow talk and stop-talking-now,
the one that you won't know until
your wedding night three years from now,
and there's no photograph of this,
except the postcard that I buy, in secret, then,
and send to him.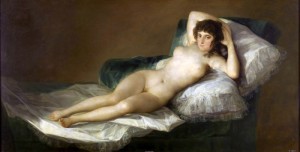 Prompt #2:  We will pass a series of images to the right; you have 30 seconds to write a word or phrase before passing it on.  We will do this for 10 minutes.  Then, pick a term from this glossary of photographic terms as your title.  (This one is crazy—but it teaches me a lot about how I do move towards narration or synthesis.)
"Correction Filters"  (for Sara Wainscott)
Grotto of the foxes, still and gray,
the dime store photo booth reveals
the picnic that my best friend thinks she had,
but no Norwegian eats those onion rings.
Hands off!  The cake is mine (I hope),
but I don't know which end to plant.
We're going to save those books,
no matter what sharp knives it takes.
Let's slice up the sky—how raw.
Let's stick it all on poles.
You cannot drag your own eye socket down, you fool,
and there are easier ways to give a cat a bath.
They'll turn out all too fluffy, much too full; their
ears will grow three times, then melt.
Why you have to look so sad, my friend?  There's
still dirt enough for all.
I cannot keep a straight face in my coven
with all these horns.
Take this, bitches!  I'll ribbon up your wishes
for the fox back in the grotto:
their fuzzy tails amoeba like,
their Goldies locked (wrong story now, wrong beast),
but the debris cuts me to pieces now
(it used to tie me down).
This isn't what we meant to do with moss.
All the damned birds want condos now,
except the pigeons—but who else can rest
on all those nails?
Nobody's fooled—a palm tree, by another other space, is still a lie,
and
what we all cry for is real.
When even I find it to be too much,
the lounging carpets on the walls,
the rabbits turned to ottomans,
I'll wrap my ribbon 'round a sword
and pray to Mary, foxes,
or whichever beast leaps nearest
to the gods.